Hotels
The venue is near the Aalto University metro station in Espoo. Below listed hotels and other accommodations along the metro route are recommended.

Original Sokos Hotel Vaakuna, Helsinki
Klaus K Design Hotel, Helsinki
Design Hotel Helka, Helsinki
Solo Sokos Hotel Torni, Helsinki
From the Airport to Helsinki Central Station
Travel time from Helsinki Airport (HEL) to Helsinki Central Station is about 30 minutes. There are two lines serving the airport:
Line "I" train: Runs via Huopalahti to Helsinki Central Station
Line "P" train: Runs via Tikkurila to Helsinki Central station. Tikkurila Railway Station is 8 km from the airport. Nearly all long-distance and most commuter trains stop at Tikkurila.
Metro to Aalto University (Otaniemi)
The journey from Central Railway Station to Aalto University in Otaniemi takes 12 minutes.

There are two exits from the Metro station, Otaniementie (exit A) and Tietotie (exit B). Via Otaniementie (exit A), you can access the Väre Building, the Undergraduate Centre and the Harald Herlin Learning Centre.

The Metro line's end station in the west is Tapiola or Matinkylä (Espoo), and in the east Vuosaari or Mellunmäki (Helsinki). The Metro runs every 2.5 minutes at Aalto University station during the rush hour, and every 4–5 minutes at other times.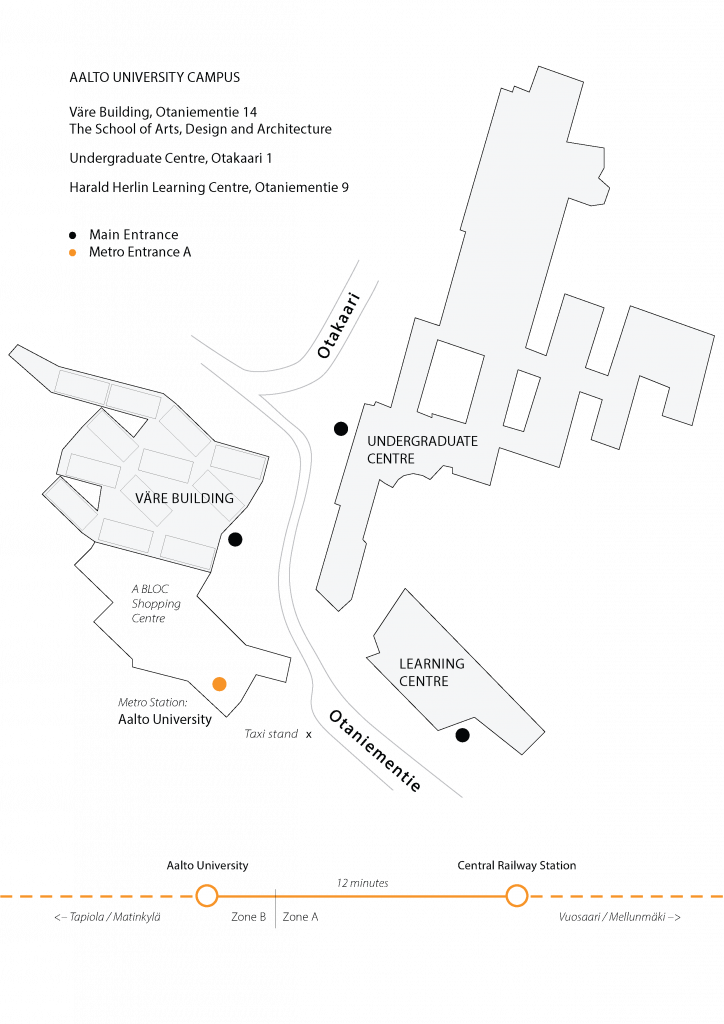 Tickets / HSL
Tickets can be bought from metro stations or HSL's application. The same ticket is valid on buses, trains, trams and the metro. The HSL area is divided into four zones, identified by the letters A, B, C and D. Helsinki, Espoo and Vantaa are located in zones A, B and C. Please note, that you need
an AB ticket in order to travel from Helsinki Center to Aalto University (Otaniemi)
an ABC ticket in order to travel from Helsinki Center to the Helsinki Airport
a BC ticket in order to travel from Otaniemi (Aalto University Campus) to the Helsinki Airport
Besides the Metro, there are some bus lines serving Otaniemi: 111, 550, 510, 552 and 555. All these stop by the Aalto University Metro station, entrance A (Otaniementie). Outside the Metro operating hours bus 551N runs to Otaniemi, via Metro station's entrance B (Tietotie).
Timetables and routes: HSL Helsinki Region Transport
Taxis
You can find the taxi stand in front of the Aalto University Metro station, entrance A (Otaniementie)